Welcome to Foundation Stage One Home Learning
Keep an eye on this blog for updates on learning that can be done at home.
Below you will also find useful files and documents you can download to use at home.
Tuesday 14.7.20
Posted: Jul 14, 2020 by: FS 1 (Foundation 1) on: FS1 Home Learning Blog
Good morning F1's on this sunny (if slightly windy) day,
How was your Monday? Did you make a self-portrait? If you did, I would love to see them! Please do email them over to me :) The F1 children that are already in school have made some lovely ones!
Today's transition activity asks you to make an 'All About Me Star'. On this star, you can add drawings or photographs of things that you really like to do, people that you love, if you have any pets, things you're looking forward to when you start F2, things you want to learn, friends that you have missed from F1...the list is endless. There are templates in the files or you can make your own. I can't wait to see your stars F1 :)
I have made my own star for you to look at. I wonder if you can guess why I have chosen to draw a bee, Numberblock 3, Lilly the dog, a teacher and a book? They are all my FAVOURITE things!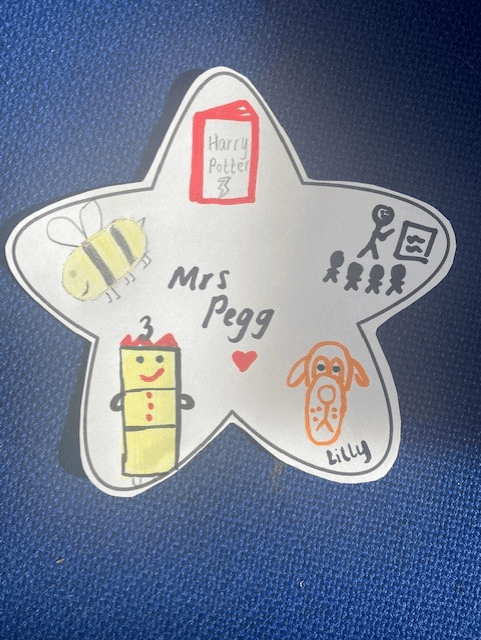 Have a lovely Tuesday and remember to drop me an email, even if it's just to say 'hello' :D
Love Mrs Pegg x
Below are useful files and documents you can download to use at home.