Welcome to Year Five Home Learning
Keep an eye on this blog for updates on learning that can be done at home.
Below you will also find useful files and documents you can download to use at home.
Year 5 Home Learning Blog
Year 5 (Year 5) on: Year 5 Home Learning Blog
Good morning Year 5! I hope you all had a restful weekend and welcome back to our final week of home learning. It seems like we've been doing this for some time now and I am so impressed with how quickly you have adapted to this new style of learning.
I really enjoyed seeing many of you last week and can't wait to see you all back at school in September. To help us start thinking about returning to school, I have planned some transition activities for you to try at home. Instead of Literacy this week, I would like you to complete some of the transition tasks on the suggested timetable. You may want to complete all of the activities, or just select your favourite – the choice is yours. Any resources you may need, you will find in the transition folder at the bottom of our class blog page or in your plastic wallets you took home.
Maths - White Rose Week 11 & 12
Reading - Bedrock & own choice of stories
Topic - What did Ancient Egypt have in common with other civilizations from that time?
Our class e mail address is: y5@olsj.org.uk and I will be available from 8am-4pm Monday-Thursday. There may be a slight delay in a reply back as I am in school full-time now. Please get in touch with your questions, pictures and your general updates of how you are getting on. You know I love receiving your emails.You will find all the videos and resources in the parents folder at the very bottom of our class blog page.
Kahoot!

Our Kahoot was exceptionally popular last week with over 100 players!
Here was the final leader board. Well done to Megan and Joe for finishing in the top 10!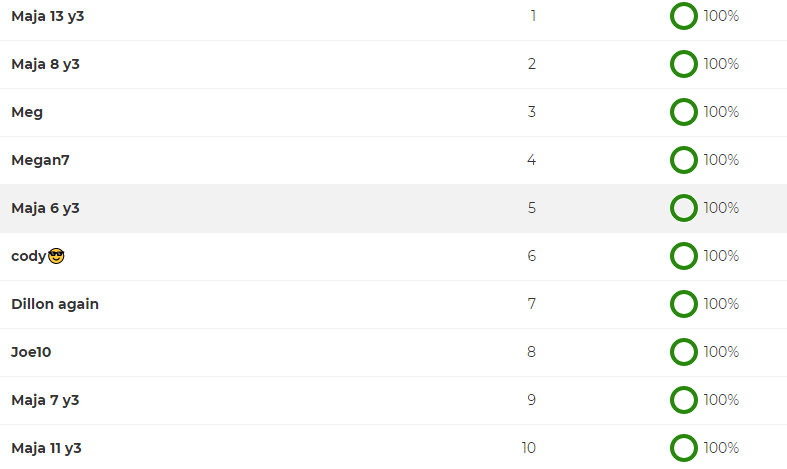 Have a great week and I shall look forward to hearing from you all.
Miss Allen :)
---
Below are useful files and documents you can download to use at home.