Synod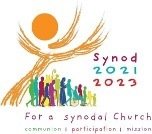 Pope Francis has asked every one of the People of God to let him know how things are for them in the Church. He believes we are all trying to journey together through life, finding ways to communicate the fundamental message of Jesus, to love one another, in how we live our lives and in our words. That is the meaning of the word "Synodal" – it means "journeying together".
He has asked the Bishops of the world to ask you and then tell him. Bishop Ralph, who is our Bishop in the Hallam diocese, would like our school to ask the children, staff, governors and parents for your experiences of "journeying together".
Over the next few months, there will be opportunities for you to submit your comments to some of the questions Pope Francis is asking us. We will be asking the children in school for their ideas in assembly and during class reflections. There will also be opportunities for our staff, governors and parents to come together and listen to one another's experiences.
If anyone would like to get involved and help bring the Synod to Our Lady and St. Joseph's then please email Mrs Machen on f1@olsj.org.uk for more information.