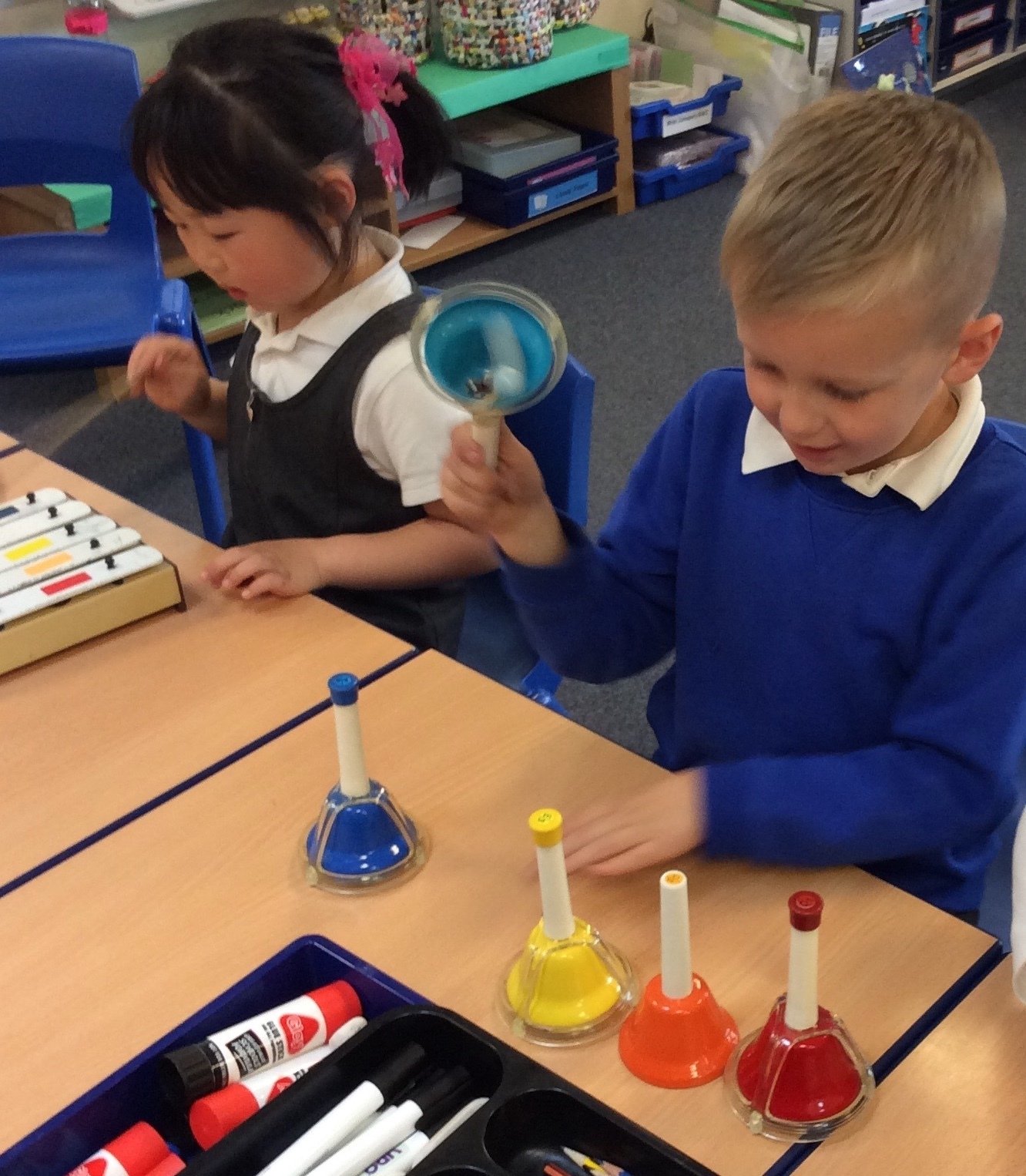 Intent
At Our Lady and St Joseph's, our approach to Music is grounded in an absolute belief for every child to enjoy and succeed in music, regardless of background. By providing a rich and diverse experience and strong first teaching within the school, we believe that musical ability can be attained over time through effort, dedication and hard work, for all and that all children can fully access the wider opportunities that music brings.
A key principle of our teaching is about belief that every child can engage with the music curriculum for their year group. Ways to overcome and physical barriers to accessing music can be found. Carefully chosen content gives access to all children to the profound cultural significance of music and all children learn to play an orchestral instrument, enabling them to take part in the wider opportunities music brings.
Click here to see the Music Curriculum Rationale Document.
Implementation
Our music curriculum is a spiral curriculum. Components are revisited and built upon in all three areas. Vocabulary is developed and used systematically and knowledge and use of notation becomes embedded.
A significant proportion of music curriculum content is delivered by the class teacher following appropriate CPD provided by the music lead. This is supplemented by the use of specialist online sessions carefully chosen to deliver the components needed and placed appropriately within a sequence of learning. Violin lessons are delivered by a specialist peripatetic teacher from Rotherham Music Hub and some sessions are delivered by the Music Lead.
All music sessions have an agenda and include introducing or revisiting key vocabulary. Children regularly revisit and apply previously taught components. When composing and performing children will have hands-on experience of a range of tuned and untuned percussion as well as singing.
Music in the National Curriculum
The school music curriculum is fully aligned to the National Curriculum and delivers all aspects of listening, performing and composing, including digital composition.
All children have the opportunity to learn to play an orchestral instrument. Music chosen for listening is broad and inclusive and informed by the Model Music Curriculum.
Elements of Music
The Curriculum map for Music has been carefully constructed to present the content, in particular the elements of music, in a logical progression. The school's approach builds on current research into metacognition including planning carefully to make use of working memory and transfer knowledge to long term memory.
The elements of pitch, pulse (beat), dynamics, duration, texture and timbre are explicitly taught and systematically built upon across a child's time in school. Notation, including staff notation, is introduced and developed across the curriculum so that children are able to record their own compositions and read music in order to perform with others.
Click here to see the Curriculum Map for Music.
Progress through the Music Curriculum
Click here to see the Music Assessment Grid
Music for Topics
Every topic, with a foundation subject as its basis, has a linked piece of music. This is in addition to music studied within the music curriculum and allows children to build their musical knowledge and repertoire, make links between music and cultures, significant events or people and time and secure cultural capital.
Music chosen is broad and diverse, and is influenced by our own school context, the examples from the Model Music Curriculum and a desire to promote understanding and inclusivity. All music for topics is included on the Music Curriculum Map.
Using IT including Audacity
IPads and apps are used to record children's performances of both their own and others' compositions and during COVID restrictions, performances were shared with parents and carers using a range of technology. The benefits of this have been retained and although we are now able to invite parents/carers into school, such technology gives children a wider audience for the 21st Century.
In KS2 children use Audacity to compose and edit with increasing ability. This aspect of the music curriculum provides aspiration for children who may look to a musical career in the future.
Click here to hear some of our Y3 children's compositions on the theme of Space.
Wider Opportunities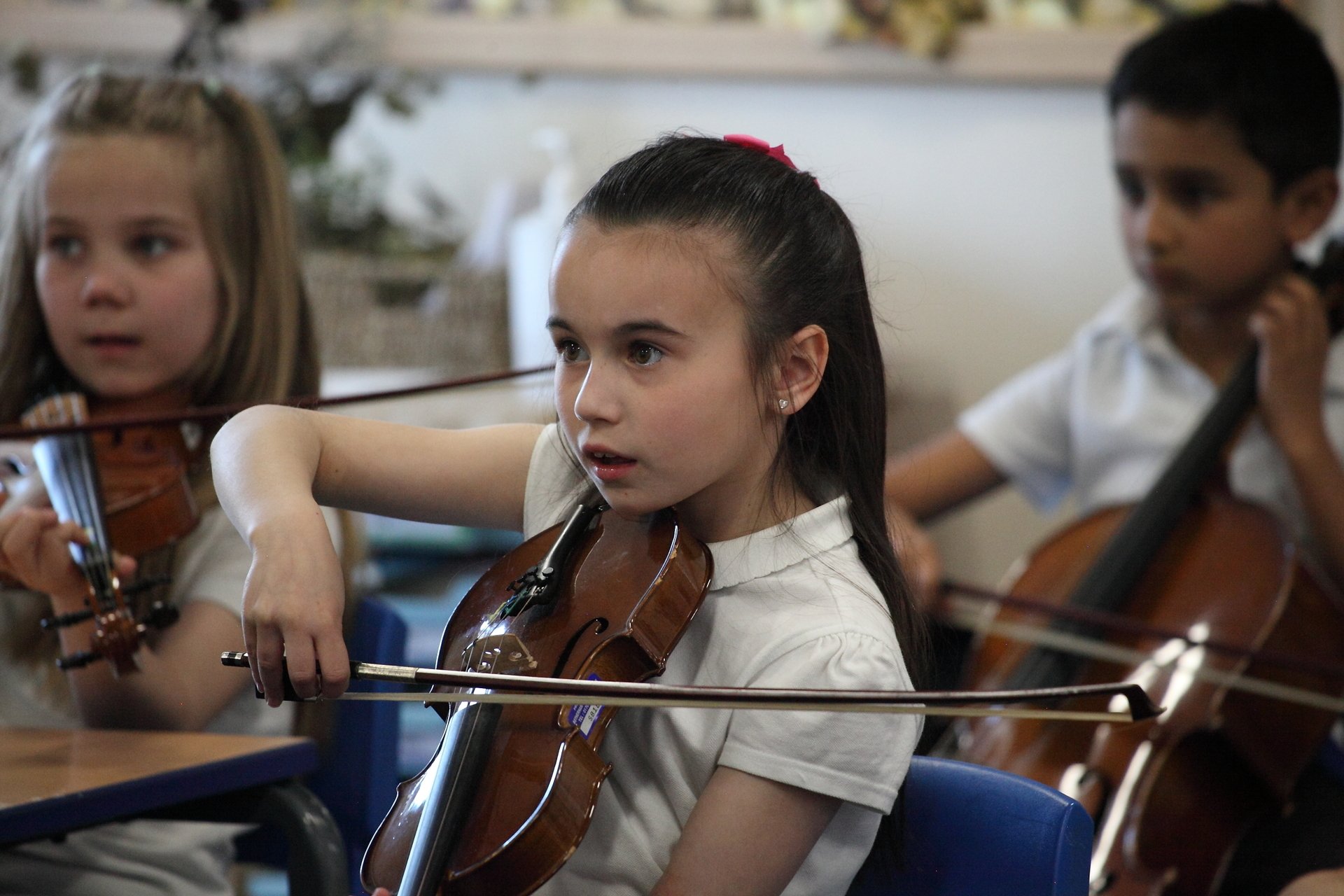 All children in KS2 learn to play an orchestral instrument (violin or viola) and have the opportunity to continue this in subsequent years. The choice of an orchestral instrument opens up a wider opportunity for all children which they might not otherwise enjoy and is an ambitious and aspirational choice for our pupils.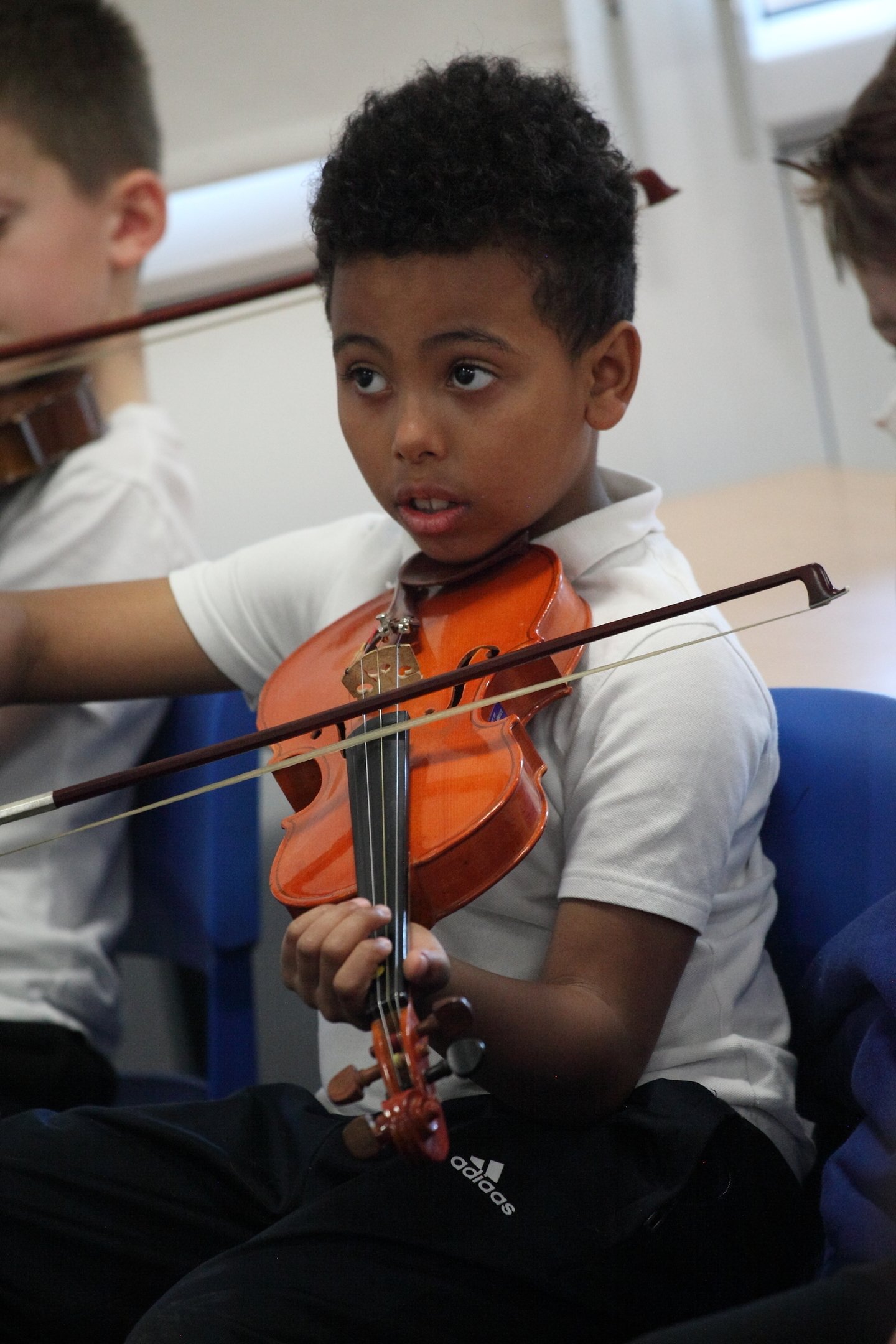 Twice a year, at Christmas and in the summer term, children prepare a musical performance or service, for parents/carers. In the case of the annual Carol Service, this is held in church, building children's understanding of the long history of church liturgy and music and its significance in our particular school context.
A range of co-curricular activities give children the opportunity to make music with and for a range of audiences.
Our children take part in Young Voices, an annual national event and a truly memorable experience.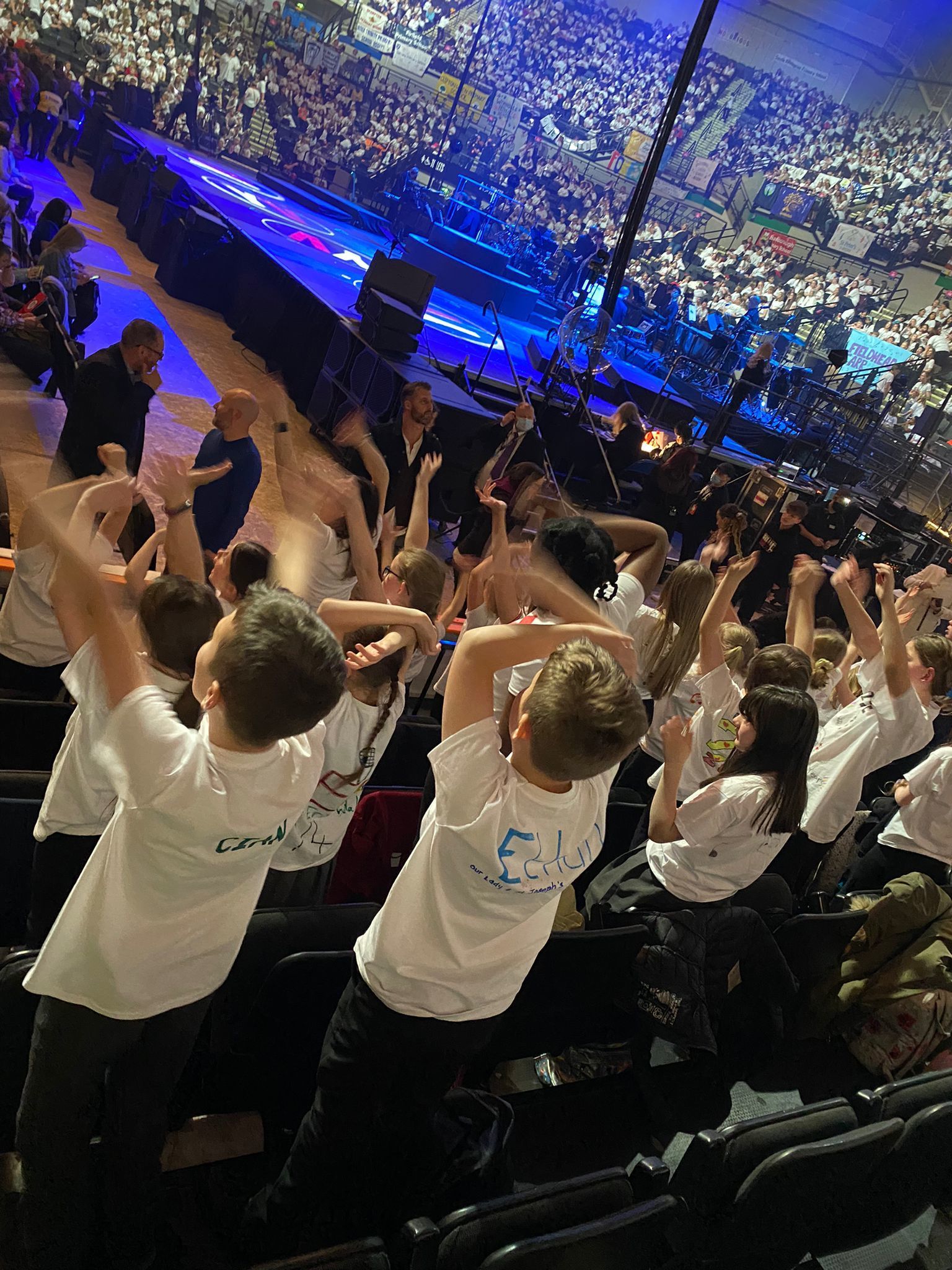 We are proud to maintain the tradition of dancing at the local Wath Festival, giving our children the opportunity to sustain a very traditional form of music and dancing while taking pride in the community in which they live.
Click here to see children taking part in the Wath Festival.
Our choir sings at other local events including the Christmas Lights Switch On.
Children sing and dance at events at both our partner secondary schools and children lead the music at our parish church.
Music for Liturgy and Worship
Children are regularly exposed to music and song to enhance worship. Children sing joyfully at school liturgies including assemblies and Mass and build a wide singing repertoire reflecting the Liturgical Year during their time in school. This enables them to choose appropriate music for child-led liturgy.
Children lead the music in church for the Feast of Christ the King and the annual Carol Service is held in church, enabling children to be a part of the long history of church liturgy and music and its significance in our particular school context. These opportunities are open for all children regardless of faith or belief.
Music Mark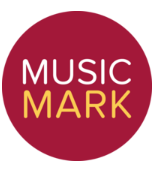 Our Lady and St. Joseph's School is proud to hold the Music Mark, recognising our commitment to a broad and balanced curriculum and the value that we place on music.